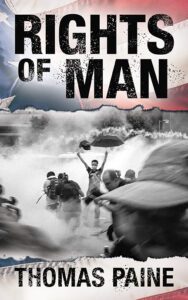 Rights of Man
Thomas Paine 
ISBN 978-1-7225-0494-6
EPUB ISBN 978-1-7225-2592-7
Publish Date: 7/16/20
$17.95
Written in 1791 and 1792 this two-part declaration, Rights of Man, was in response to Edmund Burke's Reflections on the Revolution in France. Part One argued for political independence and social reform. This seminal work on freedom and equality, written by Thomas Paine, one of the most influential writers and reformers of his age, is considered to be a classic statement of faith in democracy and egalitarianism and is Paine's most widely read work. He argues that civil liberties are not privileges granted by governments but arise naturally and belong to the people. Any government failing to protect the natural rights of its citizens should be opposed by political revolution.
Defending the early events of the French Revolution, it was dedicated to George Washington, speaking on behalf of democracy, equality and a new European order. Part Two, which came out the following year, supported social security for workers, public employment for those needing work, abolition of laws limiting wages, and other social reforms
Rights of Man, written in accessible and simple language, was a sensation in the United States, and was supported by many who agreed with Paine's defense of republican government. In Britain it was labeled by Parliament as highly seditious, causing the government to suppress it and prosecute the British-born Paine for treason.
Over 200 years later, this much-read book remains an inspiring, rational work on individual liberties and workers' rights that is a must-read for all who value democracy and personal freedom.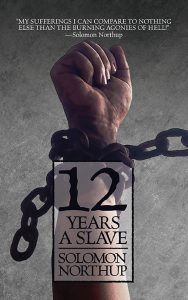 Twelve Years A Slave
Soloman Northup
ISBN 978-1-7225-0289-8
EPUB ISBN 978-1-7225-2393-0
Publish Date: 11/26/19
$19.95
This harrowing true story of Solomon Northup was the basis for the Academy Award-winning film 12 Years a Slave. In it, he takes the reader on an unforgettable journey from the slave markets in Washington, D.C., and New Orleans to the major cotton and sugar plantations in Louisiana.
Born and raised a freeman in New York, with a house, a loving wife and two children, Northup was offered a short-term engagement as a violinist in Washington D.C. where he was tricked, drugged and sold into slavery in the deep south.
Kept in bondage in Louisiana for 12 years, enduring backbreaking labor, unimaginable violence, and inhumane treatment at the hands of cruel masters, Northup was finally able to write to friends and family in New York, who succeeded in securing his release.
This memoir is a shocking portrait of America's most insidious institution and is even more disturbing in print than in the film. Published shortly after Harriet Beecher Stowe's abolitionist classic Uncle Tom's Cabin, Northup's memoir became a bestseller in 1853.With its eloquent depiction of life before and after bondage, this story of his extraordinary journey shows just how the resiliency of hope and the strong human spirit can conquer even the most horrible of circumstances.
"Now I had approached within the shadow of the cloud, into the thick darkness whereof I was soon to disappear, thenceforward to be hidden from the eyes of all my kindred, and shut out from the sweet light of liberty, for many a weary year." —Solomon Northup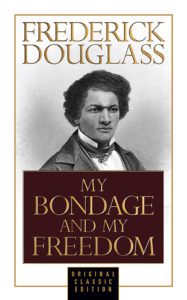 My Bondage And My Freedom
Frederick Douglass
ISBN 978-1-7225-0215-7
EPUB ISBN 978-1-7225-2130-1
Publish Date: 6/25/19
$29.95
This is ex-slave Frederick Douglass' second autobiography. First published in 1855—at the height of Douglass' involvement in the abolitionist movement—his narrative describes the steps that had led him to the forefront of the struggle for racial justice. It was written after 10 years of reflection following his legal emancipation in 1846 and his break with his mentor, William Lloyd Garrison, that catapulted Douglass into the international spotlight as the foremost spokesman for American blacks, both freed and slave.
This Classic edition contains an index to make it easier to search for people, places, and terms of interest.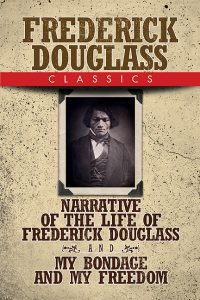 Frederick Douglass Classics: Narrative of the Life of Frederick Douglass and My Bondage and My Freedom
Frederick Douglass
ISBN 978-1-7225-0262-1
EPUB ISBN 978-1-7225-2356-5
Publish Date: 9/16/19
$24.95
Frederick Douglass was an American social reformer, abolitionist, orator, writer, and statesman. After escaping from slavery he became a national leader of the abolitionist movement, gaining preeminence for his oratory and anti-slavery writing.
NARRATIVE OF THE LIFE OF FREDERICK DOUGLASS is a dramatic autobiography of the early life of an American slave, first published in 1845 when its author had just achieved his freedom. Its shocking first-hand account of the horrors of slavery became an international bestseller. His eloquence led Frederick Douglass to become the first great African-American leader in the United States.
MY BONDAGE AND MY FREEDOM is Frederick Douglass' second autobiography. First published in 1855—at the height of Douglass's involvement in the abolitionist movement—his narrative describes the steps that had led him to the forefront of the struggle for racial justice. Writing a decade of reflection following his legal emancipation in 1846, and after breaking with his mentor, William Lloyd Garrison, Douglass became catapulted into the international spotlight as the foremost spokesman for American blacks, both freed and slave.
Read these two autobiographical classics of American literature and discover the brilliance and determination of the incredible leader, Frederick Douglass.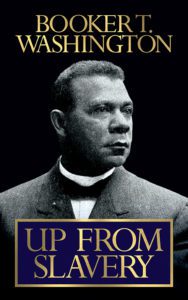 Up From Slavery
Booker T. Washington
ISBN 978-1-7225-0420-5
EPUB ISBN 978-1-7225-2518-7
Publish Date: 17/6/20
$14.95
Up from Slavery is the 1901 autobiography of American educator Booker T. Washington (1856-1915). Born in a Virginia slave hut, Washington rose from a slave child during the Civil War to worldwide recognition for his many accomplishments, becoming the most influential spokesman for African Americans of his day. In this eloquently written book, Washington describes his impoverished childhood and youth as a child in bondage, and the difficulties he faced in his unrelenting struggle for an education. These challenges helped propel him into a dedicated obsession with the Hampton Institute until he achieved being enrolled there as a student. He covers his early teaching assignments and his work establishing vocational schools, including his selection in 1881 as the head of the famed Tuskegee Institute in Alabama, designed to help black people and other disadvantaged minorities learn useful and marketable skills to help them find jobs and pull themselves up as a race. Reflecting on the generosity of teachers and philanthropists who helped educate blacks and Native Americans, Washington describes his efforts to instill manners, health and a feeling of dignity to students. His educational philosophy of education as the best route to advancement stressed combining academic subjects with learning a trade, believing that the integration of practical subjects helped reassure the white community as to the usefulness of educating black people. Washington disapproved of civil-rights agitation thereby facing the opposition of many black intellectuals. Yet today he's regarded as a major figure in the struggle for equal rights, who furthered the cause and worked tirelessly to educate and unite African Americans.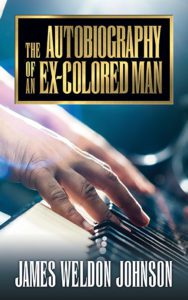 The Autobiography of An Ex-Colored Man
James Weldon Johnson
ISBN 978-1-7225-0468-7
EPUB ISBN 978-1-7225-2566-8
Publish Date: 7/16/19
$11.95
First published anonymously in 1912, James Weldon Johnson's emotionally gripping fictional autobiography of a young biracial man living in America during the turn of the century is a landmark in black literary history and a classic of American fiction. Masterfully exploring the complexity of race relations in America and the search for racial identity by one of mixed ethnicity, this pioneering work probes the psychological aspects of "passing for white" and examines the American caste and class system. Narrated by a biracial man whose light skin allows him to "pass" for white, the novel describes a pilgrimage through America's color lines at the turn of the century – from his attendance of a black college in Florida to an elite New York nightclub, from the rural South to the suburbs of the Northeast, and Europe. The "Ex-Colored" man makes his living as a jazz pianist playing ragtime at a popular New York City club. While there, he catches the attention of a wealthy white gentleman who employs him to play at his parties. They become friends but a feeling of subservience prompts the narrator to part ways. He travels to the South to perfect his music and glorify the artistry of his race. But after witnessing a Southern lynching he abandons his desire to embrace his black heritage opting instead to "pass" as a white man. Johnson influenced a generation of writers during the Harlem Renaissance and gave white readers a new perspective on the double standard of racial identity imposed on black Americans.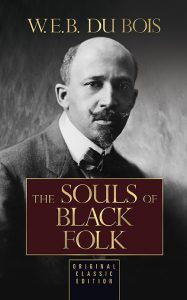 The Souls of Black Folk
W.E.B. Du Bois
ISBN 978-1-7225-0290-4
$16.39

HARDCOVER ISBN 978-1-7225-1076-3
$23.15

EPUB ISBN 978-1-7225-2394-7
Publish Date: 11/12/19
"EITHER AMERICA WILL DESTROY IGNORANCE OR IGNORANCE WILL DESTROY THE UNITED STATES." -W.E.B. Du Bois This classic groundbreaking work of American literature first published in 1903 is a cornerstone of African-American literary history and a seminal work in the field of sociology. W.E.B. Du Bois, who drew from his own experiences as an African-American living in American society, explores the concept of "double-consciousness"-a term he uses to describe living as an African-American and having a "sense of always looking at one's self through the eyes of others." With Du Bois' examination of Black life in post-Civil War America, his explanation of the meaning of emancipation and its effect, and his views on the roles of the black leaders of his time, The Souls of Black Folk is one of the important early works in the field of sociology. His fourteen essays have had a lasting impact on civil rights and the discussion of race in the United States. The essays include these topics: * "OUR" SPIRITUAL STRIVINGS * THE DAWN OF FREEDOM * MEANING OF PROGRESS * TRAINING OF BLACK MEN * THE SONS OF MASTER AND MAN * FAITH OF THE FATHERS WILLIAM EDWARD BURGHARDT DU BOIS (1868-1963) was an American sociologist, historian, civil rights activist, Pan-Africanist, author, writer and editor. Born in Massachusetts, Du Bois grew up in a relatively tolerant and integrated community, and after completing graduate work at the University of Berlin and Harvard, (where he was the first African-American to earn a doctorate), he became a professor of history, sociology and economics at Atlanta University. Du Bois was one of the founders of the NAACP. * SORROW SONGS * AND MORE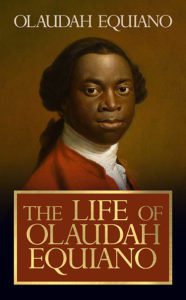 The Life of Olaudah Equiano 
Olaudah Equiano
ISBN 978-1-7225-0472-4
EPUB ISBN 978-1-7225-2570-5
Publish Date: 7/16/20
$14.95
A remarkable account of early slavery and later freedom, The Life of Olaudah Equiano, Or Gustavus Vassa, The African, Written By Himself, is the 1789 autobiography of former slave Olaudah Equiano. This memoir is a slave narrative, travel tale, and spiritual journey all-in-one. His life is a tale of terror as well as an exciting adventure. This fascinating account describes Equiano's abduction from Africa at the age of ten and the years spent in labor on slave ships. It documents his attempts at becoming an independent man through his study of the Bible, and his eventual success in gaining his own freedom in 1766. What follows is success in business, in literacy, and a move to becoming an influential African advocate of abolishing the slave trade in Britain during the late 18th century. Equiano's degraded youth and respected later life in England is told with verve and sophistication in this spirited quest for fulfillment. A real masterpiece and a book of historical importance, the book was one of the first widely read slave narratives and was a precursor to other such slave narratives as that of Frederick Douglass. The work has proven so influential in the study of African and African-American literature that it is frequently taught in both English literature and history classrooms in universities.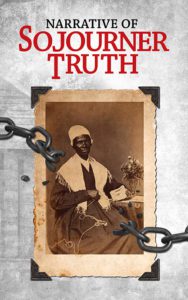 Narrative of Sojourner Truth
Sojourner Truth
ISBN 978-1-7225-0371-0
EPUB ISBN 978-1-7225-2469-2
Publish Date: 7/16/20
$12.95
The Narrative of Sojourner Truth is the memoir of an African-American woman who struggled against the bondages of slavery in the early 1800s. It is one of the most famous slave narratives of all time and is one of the most important documents of slavery ever written. This is her story. This is her voice. Dictated to her friend Olive Gilbert and first published privately in 1850, this partial autobiography of the woman who became a pioneer in the struggles for racial and sexual equality is a lens into the little-known world of northern slavery and an inspiring account of a black woman striving for personal and political empowerment. Truth was born into slavery around 1797 but managed to escape with her infant daughter in 1826. She found refuge in the home of Isaac and Maria Van Wagenen of New Paltz, New York and in 1828, became the first black woman to win a case against a white man when she sued to recover her son, who was still enslaved. Born Isabella Baumfree, Sojourner changed her name to signify her belief that God had tasked her with the mission to go forth and preach the message of abolition. Her strong spirituality helped her overcome the many struggles she faced in life and enabled her to become a leading abolitionist and champion of women's rights. This narrative bears witness to Sojourner Truth's thirty years of bondage and her transformation into an extraordinary abolitionist, feminist, orator, and preacher. She is the passionate woman on the Smithsonian Institution's list of "100 Most Significant Americans. It is a must read for anyone interested in that dark period of time in American history.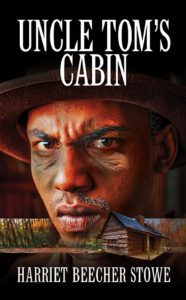 Uncle Tom's Cabin
Harriet Beecher Stowe
ISBN 978-1-7225-0419-9
EPUB ISBN 978-1-7225-2517-0
Publish Date: 7/16/20
$29.95
This beautifully designed unabridged edition includes both Volume I and Volume II.
Uncle Tom's Cabin, or Life Among the Lowly is an anti-slavery novel by American author Harriet Beecher Stowe. The lives and losses of slaves in the American south are portrayed in this unflinching indictment of slavery. The book is credited with helping fuel the abolitionist cause in the 1850s and it helped lay the groundwork for the Civil War. In the first year after the novel was published, 300,000 copies were sold in the United States and one million copies in Great Britain. It was the best-selling novel of the 19th century and the second best-selling book of that century, following the Bible. Stowe, a Connecticut-born teacher at the Hartford Female Seminary and an active abolitionist, featured the character of Uncle Tom, a long-suffering black slave around whom the stories of other characters revolve. When a benevolent landowner decides to sell two slaves, Uncle Tom and Eliza, in order to raise funds, their lives follow divergent paths. While Eliza escapes to eventual freedom, Uncle Tom is repeatedly sold until he ends up working on the prosperous Legree plantation, where his very life is destroyed by his violent master. In depicting the reality of slavery this sentimental novel also asserts that Christian love can overcome something as destructive as enslavement of fellow human beings. The deep historical impact of Uncle Tom's Cabin as a vital antislavery tool is reinforced by a story that when Abraham Lincoln met Stowe at the start of the Civil War, Lincoln declared, "So this is the little lady who started this great war."