How To Use The Laws of Mind  
Dr. Joseph Murphy
ISBN 978-1-7225-0276-8
EPUB ISBN 978-1-7225-2370-1
Publish Date: 10/3/19
$24.95
This is one of Dr. Murphy's best books, on a par with his classic The Power of your Subconscious Mind. It explains the difference between the conscious and subconscious mind, and how the two work together to create the reality of the individual. As in Murphy's other books, examples are given of how people overcame problems or manifested their desires by changing their minds through belief, affirmation, and visualization. The chapters deal with: • HEALING • PRAYER • BECOMING SPIRITUAL-MINDED • THE CREATIVITY OF THOUGHT • THE MEANING OF EVIL • THE MEANING OF LIFE • CONTROLLING ONE'S FEARS • THE POWER OF SUGGESTION • MARRIAGE, SEX, AND DIVORCE In his very engaging style, the author teaches us how to use both phases of the mind synchronously, harmoniously, and peacefully in order to bring harmony, health, and abundance into our lives. Exclusive to and approved by the estate of Joseph Murphy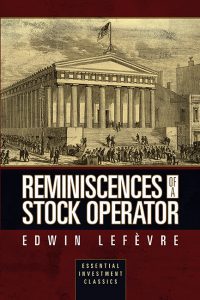 Reminiscences of a Stock Operator
Essential Investment Classics
Edwin Lefévre
ISBN 978-1-7225-0269-0
EPUB ISBN 978-1-7225-2363-3
Publish Date: 9/27/19
$19.95
THE CLASSIC NOVEL BASED ON THE LIFE OF LEGENDARY STOCK MARKET SPECULATOR JESSE LIVERMORE Reminiscences of a Stock Operator is the first-person narrative of a fictional speculator named Larry Livingston, whose life events happen to match precisely those of Jesse Livermore, one of Wall Street's greatest ever stock speculators. This fictionalized story written in the first-person narrative follows his journey from the age of 15 when he made his first $1,000 to becoming a Wall Street legend. You'll see how he learned the ins and outs of trading the hard way while losing his fortune and then making it all back. Decades after its original publication, readers are still getting tremendous value from Livermore's experience. There has even been speculation that the book's author was not Lefèvre, but none other than Jesse Livermore, himself.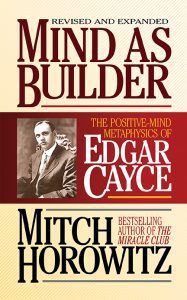 Mind As Builder: The Positive Metaphysics of Edgar Cayce
Mitch Horowitz
ISBN 978-1-7225-0268-3
EPUB ISBN 978-1-7225-2362-6
Publish Date: 9/16/19
$14.95
GAIN A WHOLE NEW PERSPECTIVE ON THE CORE PRINCIPLE THAT "MIND IS THE BUILDER" UPDATED AND EXPANDED
In this electrifying and practical book, PEN Award-winning historian and popular voice of esoteric spirituality Mitch Horowitz explores the inner meaning of Edgar Cayce's positive-mind principles, and how to use them in your life. Mitch combines history and hands-on instruction to open a new window on power of thought, the ways that current science is validating metaphysics, and how to use positive-mind philosophy to improve your life. This edition includes a new essay, "Edgar Cayce: Ordinary Man, Extraordinary Messenger."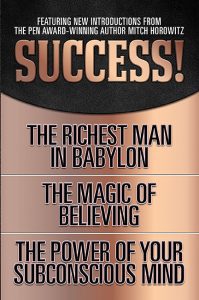 Success (Original Classic Edition) 
The Richest Man In Babylon, The Magic of Believing, The Power of Your Subconscious Mind
George S. Ckason, Claude Bristol, Dr. Joseph Murphy, Mitch Horowitz
ISBN 978-1-7225-0271-3
EPUB ISBN 978-1-7225-2365-7
Publish Date: 9/27/19
$34.95
GAIN A BOLD NEW PERSPECTIVE ON MONEY AND SUCCESS WITH THESE THREE UNFORGETTABLE CLASSICS. FEATURING NEW INTRODUCTIONS FROM THE PEN AWARD-WINNING AUTHOR MITCH HOROWITZ. IN THIS SUCCESS BUNDLE YOU'LL FIND:
Richest Man In Babylon
The Richest Man in Babylon is a guide to financial success, which is set in the ancient city of Babylon. Not only will it revolutionize your personal finances and earning ability, but after reading it you will never view money the same way again.
The Magic of Believing
With The Magic of Believing you will learn to unlock the success power of your mind. Artists and businesspeople, athletes and entrepreneurs, have sworn by Claude Bristol's program for harnessing the higher energies of the mind for peak performance.
The Power of Your Subconscious Mind
After reading The Power of Your Subconscious Mind you will sense the existence of a greater power inside you and through it, discover your true potential. It will place you on the road to freedom, happiness and peace of mind.
WITHIN YOU IS THE ABILITY TO ACHIEVE SUCCESS AND FULFILL ALL YOUR DREAMS. THESE MASTERWORKS OF HIGHER LIVING WILL SET YOU ON A DRAMATIC AND THRILLING NEW DIRECTION IN LIFE.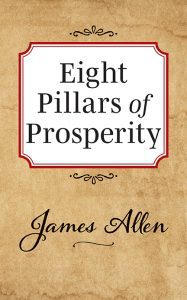 Eight Pillars of Prosperity
James Allen
ISBN 978-1-7225-0251-5
EPUB ISBN 978-1-7225-2345-9
Publish Date: 8/11/19
$15.95
In Eight Pillars of Prosperity, James Allen expands on his beliefs that our thoughts and dreams determine the sort of person we will become. Here he reveals in great depth and detail the exact qualities we must meditate upon in order to achieve lasting success. He believed that prosperity rests on eight pillars: Energy, Economy, Integrity, System, Sympathy, Sincerity, Impartiality, and Self-reliance.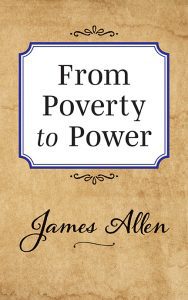 From Poverty to Power
James Allen
ISBN 978-1-7225-0254-6
EPUB ISBN 978-1-7225-2348-0
Publish Date: 8/11/19
$17.95
Although written at the turn of the century its themes are still current. From Poverty to Power is a concise and informative guide to the development of the human spirit. These two books in one: "The Path to Prosperity" and "The Way of Peace," are both inspirational and motivational! This work has been selected by scholars as being culturally important, and is part of the knowledge base of civilization as we know it.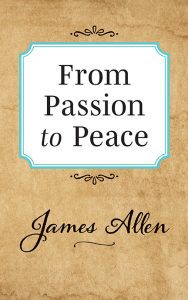 From Passion to Peace
James Allen
ISBN 978-1-7225-0253-9
EPUB ISBN 978-1-7225-2347-3
Publish Date: 8/11/19
$8.95
These are James Allen's thoughts on personal fulfillment. The first three parts of this book, Passion, Aspiration, and Temptation, represent the common human life, with its passion, pathos, and tragedy. The last three parts, Transcendence, Beatitude, and Peace, represents the Divine Life-calm, wise and beautiful-of the sage and Savior. The middle part, Transmutation, is the transitional stage between the two; it is the alchemic process linking the divine with the human life. Discipline, denial, and renunciation do not constitute the Divine State; they are only the means by which it is attained.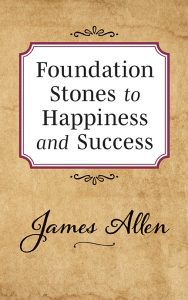 Foundation Stones to Happiness and Success
James Allen
ISBN 978-1-7225-0252-2
EPUB ISBN 978-1-7225-2346-6
Publish Date: 8/11/19
$8.95
This is one of the last books written by James Allen. Like all his books, he wrote when he had a message, and it became a message only when he had lived it out in his own life, and knew that it was good. In this book, which has inspired millions, James Allen shows us where to begin if we are to find Happiness and Success. This simple guide will help you find the correct mind-set to begin to change your life for the better and find more than happiness and success. It will also lead to blessedness, satisfaction and peace.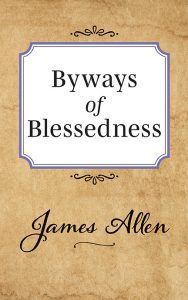 Byways Of Blessedness
James Allen
ISBN 978-1-7225-0250-8
EPUB ISBN 978-1-7225-2344-2
Publish Date: 8/11/19
$17.95
New Thought pioneer and philosopher James Allen teaches us how to improve our life and spiritual wellbeing through the power of positive thinking. He believed that life is a pilgrimage, or a path from ignorance to realization. According to him, all men must and will follow this path, at the end of which is a state of spiritual satisfaction, which can be attained only by the earnest efforts of the seeker. He wants us to see what is in front of us and not rush by. Every day new beginnings are presented to us and while many appear small and insignificant, in reality they are the important things in life.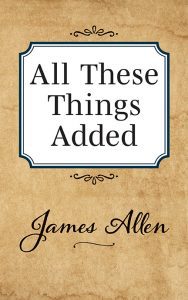 All These Things Added
James Allen
ISBN 978-1-7225-0248-5
EPUB ISBN 978-1-7225-2342-8
Publish Date: 8/11/19
$14.95
This is James Allen's second book. It features fourteen of his inspirational essays, including: The Soul's Great Need, The Competitive Laws and the Law of Love, The Finding of a Principle, At Rest in the Kingdom, The Divine Center, The Eternal Now, The 'Original Simplicity,' The Unfailing Wisdom, The Might of Meekness, The Righteous Man, Perfect Love, Greatness and Goodness, and Heaven in the Heart.
In All These Things Added, Allen addresses everyone's hunger for righteousness and teaches that only by eliminating the selfishness and darkness can one enter the Kingdom of God.