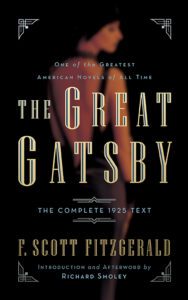 The Great Gatsby
F. Scott Fitzgerald, with Introduction and Afterword by Richard Smoley 
ISBN 978-1-7225-0557-8
EPUB ISBN 978-1-7225-2677-1
Publish Date: 6/1/21
$12.95
The novel follows Jay Gatsby, a mysterious self-made man, in his desperate quest for the love of the beguiling Daisy Buchanan—and for a place in the highest ranks of society. Gatsby's fate reflects the emptiness and disappointment that come from his search.

First published in 1925, Gatsby is regarded as the epitome of the spirit of the Roaring Twenties: the fast life, new wealth, and a glamour and a frivolity that prove to be hollow. Fitzgerald's genius portrays this world with humor, insight, and the profound sympathy that is the hallmark of all great fiction.

F. Scott Fitzgerald (1896–1940) was one of the most admired writers of the twentieth century. His works include This Side of Paradise, The Beautiful and Damned, and Tender Is the Night. The Great Gatsby is by far his best-known and most beloved novel.

Richard Smoley, author of the foreword and afterword, is the distinguished author of twelve books, mostly recently The Truth about Magic, also published by G&D. A graduate of Harvard and Oxford universities, he published First Flowering: The Best of the Harvard Advocate, 1866–1976, while still an undergraduate.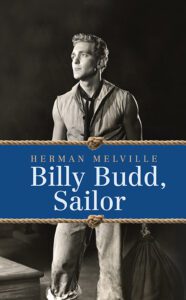 Billy Budd, Sailor
Herman Melville 
ISBN 978-1-7225-0429-8
EPUB ISBN 978-1-7225-2527-9
Publish Date: 7/20/21
$12.95
A beautifully designed, classic edition of Melville's original tale…discovered unfinished in the author's desk shortly after his death.

Billy Budd, a cheerful, good looking sailor with a natural charisma and innocence that makes him popular with the crew, is aboard a British ship during the Napoleonic wars. His only physical defect is a stutter which grows worse when under intense stress. Budd arouses the antagonism of the ship's bitter master-at-arms, John Claggart, who falsely accuses Billy of conspiring to mutiny. Billy, dumfounded by the accusation, becomes unable to defend himself because of his stuttering and in frustration strikes the lying Claggart with a blow so powerful that it kills the man instantly. In the ensuing trial Melville explores good and evil, justice and mercy, right and wrong, and natural law verses man's law as the ship's Captain recognizes the innocence of Budd's intent, but the law of mutiny requires him to sentence Billy to be hanged.

Billy Budd, Sailor is the last novel written by American writer Herman Melville. Beginning the original work in 1888, it was left unfinished at the time of his death in 1891, remaining unpublished until 1924. Melville scholars engaged in study and scrupulous research of the book for many years that resulted in this final text. This classic edition offers all lovers of literature the best and most authentic version of the American storyteller's final masterpiece, which has been acclaimed as second only to Moby Dick among Melville's Work.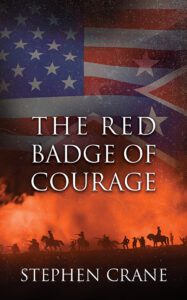 The Red Badge of Courage
Stephen Crane 
ISBN 978-1-7225-0391-8
EPUB ISBN 978-1-7225-2489-0
Publish Date: 7/20/21
$14.95
Read this resonating tale that has never been out of print for over 100 years, in this beautifully designed volume.

This breakthrough novel of American literature changed the perception of what literature should be or do. It is considered to be one of the most influential war stories every written. Taking place during the American Civil War, the story is about a young private of the Union Army, Henry Fleming, who flees from the field of battle. It was published in 1895, a full thirty years after the American Civil War had ended and quickly became the benchmark for modern anti-war literature. Although author Stephen Crane was born after the war and never participated in battle himself, he was highly praised by the Civil War veterans for having captured a realistic impression of their actual battlefield experiences and emotions.

The book deals with the meaning of courage as the young protagonist,Henry Fleming, is cast into a literal "trial by fire" that will take the full measure of his courage.Crane carefully traces the development of this young soldier, detailing the hopes, fears and rationalizations of his career.

Fleming had joined the Union army because of his romantic ideas of military life, but soon finds himself in the middle of a battle against a regiment of Confederate soldiers. Terrified, Henry deserts his comrades. Upon returning to his regiment, he struggles with his shame as he tries to redeem himself and prove his courage with a wound, a "red badge," so that none could accuse him thereafter of any inappropriate action.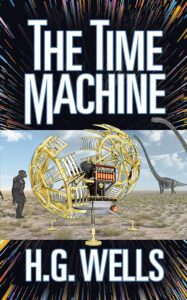 The Time Machine
H.G. Wells 
ISBN 978-1-7225-0393-2
EPUB ISBN 978-1-7225-2491-3
Publish Date: 7/27/21
$13.95
A beautifully designed edition of one of the most beloved science fiction novels of all time.
First published in 1895, The Time Machine won author H.G. Wells immediate recognition and has been regarded ever since as one of the great masterpieces in the literature of science fiction. It popularized the concept of time travel and introduced the concept of a "time machine" device that could travel forwards and backwards through the years.
It is the story of one man's astonishing journey beyond the conventional limits of the imagination. One of the most renowned works of science fiction, The Time Machine reflects on the adventures of The Time Traveller – a man who constructs a machine which allows him to explore what the future has to offer. When he courageously steps out of his machine for the first time, he finds himself in the year 802,701―and everything has changed. In this unfamiliar utopian age, creatures seem to dwell together in perfect harmony. Thinking he can study these marvelous beings and unearth their secret then return to his own time, he discovers that his only avenue of escape, his invention, has been stolen.
Wells is generally credited with the popularization of the concept of time travel by using a vehicle that allows an operator to travel purposefully and selectively. The term "time machine", which was coined by Wells, is now universally used to refer to such a vehicle. The book has been adapted for a number of films and elevision shows, as well as inspiring other science fiction writers.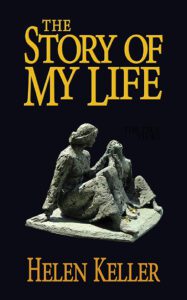 The Story of My Life
Helen Keller 
ISBN 978-1-7225-0392-5
EPUB ISBN 978-1-7225-2490-6
Publish Date: 7/27/21
$14.95
When she was 19 months old, Helen Keller (1880–1968) suffered a severe illness that left her blind and deaf. Not long after, she also became mute. Her tenacious struggle to overcome these handicaps — with the help of her inspired and inspiring teacher, Anne Sullivan — is one of the great stories of human courage and dedication. The Story of My Life, first published in 1903, is Helen Keller's classic autobiography detailing the first 22 years of her life, including the magical moment at a water pump when, recognizing the connection between the word "water" and the cold liquid flowing over her hand, she realized that objects had names.

She had many experiences which were equally thrilling and noteworthy including her joy at eventually learning to speak so that by the time she was 16, she could speak well enough to attend preparatory school followed by her education at Radcliffe, from which she graduated cum laude, and of course, her extraordinary relationship with Miss Sullivan who had shown a remarkable gift and genius for communicating with her eager and quick-to-learn pupil. Keller also writes of her friendships with Oliver Wendell Holmes, Edward Everett Hale and other notables.

Keller first began to write The Story of My Life in 1902, when she was still a student at Radcliffe College. The book is dedicated to inventor Alexander Graham Bell, and the dedication reads, "To ALEXANDER GRAHAM BELL Who has taught the deaf to speak and enabled the listening ear to hear speech from the Atlantic to the Rockies, I dedicate this Story of My Life."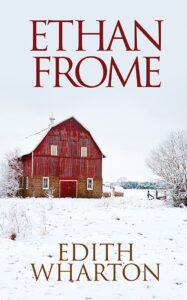 Ethan Frome
Edith Wharton 
ISBN 978-1-7225-0383-3
EPUB ISBN 978-1-7225-2481-4
Publish Date: 7/27/21
$12.95
Ethan Frome, written in 1911 by Pulitzer Prize-winning American author Edith Wharton, is set in the fictitious town of Starkfield, Massachusetts. Against a backdrop of a cold, grey, bleak New England winter, a visiting engineer staying temporarily in town while working nearby, tells the story of his encounter with Ethan Frome, who is an isolated farmer trying to scrape out a living while tending to his frigid, demanding and ungrateful wife, Zeena.

The narrator's initial impressions are based on his observations of Frome, watching as he goes about his daily tasks. Something about him catches the eye and curiosity of the visitor, yet no one in town wants to discuss or reveal many details about the strange man or his background.

The narrator ultimately finds himself having to stay overnight in Frome's house in order to escape a fierce winter storm and is then able to observe Frome up close. When he shares his observations with others in town it triggers them to be more forthcoming with their own knowledge and impressions.

Ethan Frome is a man with a history of thwarted dreams and desires whose longing ends in an ironic turn of events. A bit of hope enters his life of despair when his wife's cousin Mattie arrives. He falls in love with her and his life is transformed but their fate is doomed by the stifling conventions of the era.

This beautifully designed American Literature Classic presents compelling characters trapped in circumstances from which they seem unable to escape.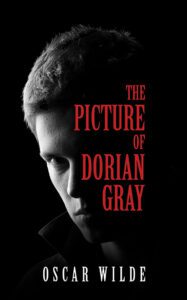 The Picture of Dorian Gray
Oscar Wilde 
ISBN 978-1-7225-0376-5
EPUB ISBN 978-1-7225-2474-6
Publish Date: 7/27/21
$15.95
This celebrated masterpiece is Oscar Wilde's only novel. A mesmerizing tale of horror and suspense, it has endured due to its artful prose and the philosophical questions it raises, as well as the scandal it caused upon its initial publication in 1890.

Written in his distinctively dazzling manner and combining aspects of a Gothic horror novel and decadent French fiction, Wilde forges a devastating account of the effects of evil and depravity on a fashionable young man in late 19th century England who sells his soul in exchange for eternal youth and beauty.

A concept that Wilde derived from the German legend of Faust, Gray is the subject of a portrait by painter Basil Hallward who deems his subject's beauty to be inconceivably great. Rather than having to age himself, an egotistical Dorian wishes for the painting to age instead of him so that he can retain his youthful good looks. Gray plunges into a life of vice and debauchery with its sole aim being pleasure. His body retains perfect youth and vigor while the portrait changes day by day into a ghastly chronicle of evil, documenting each of his sins with its appearance, which he must keep hidden from the world.

This spellbinding novel tale that warns its readers of the dangers that come with narcissism, self-indulgence, and ignorance still ranks as one of Wilde's most important works. Of Gray's relationship to him, Wilde noted "Basil Hallward is what I think I am: Lord Henry what the world thinks me: Dorian what I would like to be―in other ages, perhaps."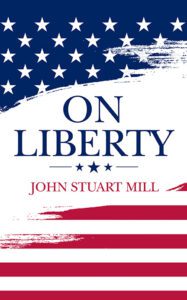 On Liberty
John Stuart Mill
ISBN 978-1-7225-0387-1
EPUB ISBN 978-1-7225-2485-2
Publish Date: 7/16/20
$12.95
John Stuart Mill's resolute dedication to the cause of freedom inspired this 1859 treatise. Discussed and debated from time immemorial, the concept of personal liberty went without codification until the publication of this enduring work which applies an ethical system of utilitarianism to society and the state which to this day remains well known and studied. Mills (1806-1873), a British economist, philosopher, and ethical theorist whose argument does not focus on "the so-called Liberty of the Will…but Civil, or Social Liberty: the nature and limits of the power which can be legitimately exercised by society over the individual" asks and answers provocative questions relating to the boundaries of social authority and individual sovereignty. He declares that there is "one very simple principle" regarding the use of coercion in society ― one may only coerce others either to defend oneself or to defend others from harm. Mill puts forth his basic argument in favor of liberty for the individual as long as it harms no one else. Setting forth the value of liberty of opinion and liberty of action, he emphasizes the importance of individuality versus the "tyranny of the majority" and highlights the positive effects of liberty on all people and on society, as freedom enables progress and prevents social stagnation. He details the appropriate level of authority society ought to have over the individual society's obligation to protect people incapable of exercising their own freedom. On Liberty remains one of the most influential studies on the nature of individual liberty and its role in a democratic society.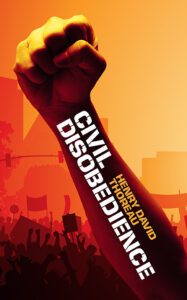 Civil Disobedience
Henry David Thoreau 
ISBN 978-1-7225-0521-9
EPUB ISBN 978-1-7225-2619-1
Publish Date: 7/16/20
$6.95
The Book that Transformed America Resistance to Civil Government (Civil Disobedience) is an argument for disobedience to an unjust state by American transcendentalist Henry David Thoreau that was first published in 1849 and continues to transform American discourse even today. It was Thoreau's first published book. Motivated in part by his disgust with slavery and the Mexican-American War, Thoreau argues that individuals should not permit governments to overrule or atrophy their consciences, and that they have a duty to avoid allowing such acquiescence to enable the government to make them the agents of injustice. Civil Disobedience is unusual for its symbolism and structure, its criticism of Christian institutions, and its many-layered storytelling. Thoreau's ideas presented in this essay have influenced some of the most powerful and influential people in history, including Martin Luther King Jr., Leo Tolstoy, President John F. Kennedy and Ernest Hemingway. The essay was a seminal work in the shaping of Gandhi's three-decade-long non-violent revolution against British-occupied India.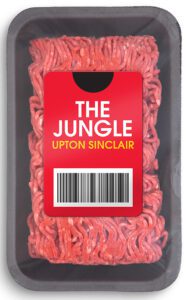 The Jungle
Upton Sinclair  
ISBN 978-1-7225-0411-3
EPUB ISBN 978-1-7225-2509-5
Publish Date: 6/25/20
$7.25
The Jungle, a novel by American journalist Upton Sinclair (1878–1968), was written in 1906 to portray the harsh conditions and exploited lives of immigrants living in Chicago and similar industrialized cities in the United States. While his main goal in describing the working conditions in the meat industry was based on an investigation he conducted for a socialist newspaper with the goal of advancing socialism in the United States, most readers were more concerned with several of the passages exposing health violations and unsanitary practices in the American meat packing industry during the early 20th century. It greatly contributed to a public outcry, which led to reforms including the Meat Inspection Act. Sinclair famously said of the public reaction, "I aimed at the public's heart, and by accident I hit it in the stomach."




The book depicts working-class poverty amid a lack of social support, harsh and unpleasant living and working conditions, and a sense of hopelessness among the many workers. These elements contrasted greatly with the deeply rooted corruption of the people in power. A review by writer Jack London called it the "Uncle Tom's Cabin of wage slavery."
Sinclair had spent seven weeks working incognito in the meatpacking plants of the Chicago stockyards while gathering information for the socialist newspaper, Appeal to Reason. As a journalist who exposed corruption in government and business, he was considered a "muckraker." He first published The Jungle in serial form in the newspaper in 1905 and it was then published as a book in 1906.