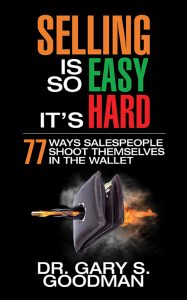 Selling Is So Easy It's Hard: 77 Ways Salespeople Shoot Themselves In The Wallet
Dr. Gary S. Goodman
ISBN 978-1-7225-0194-5
EPUB ISBN 978-1-7225-2293-3
Most sales training programs offer the same old pointers: Always be closing, keep it simple, stupid, and ask for referrals. You know these clichés. Selling Is So Easy, It's Hard is the first program to focus on the 77 correctable selling mistakes that novices and veterans make. Without conscious awareness, these errors, snafus, miscues, and blunders keep the typical seller from earning at least 25% more business. This translates into millions of dollars in lost income over the course of a career, according to best- selling author and speaker Dr. Gary S. Goodman.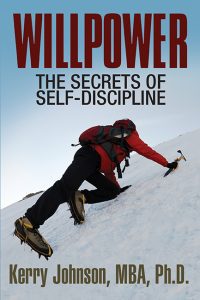 Willpower: The Secrets Of Self-Discipline
Dr. Kerry L. Johnson, MBA, Ph.D.
ISBN 978-1-7225-01754
EPUB ISBN 978-1-7225-2272-8
Former pro tennis player, Kerry Johnson, shows us how to will power. With all the good intentions in the world to accomplish our goals we cannot move forward without willpower, without self-discipline. Among the lessons you will learn are how to change disbelief in your abilities into beliefs that support your dreams; how you limit yourself and how to do to break free from the very things that hold you back. In addition to having been a pro athlete, Kerry Johnson received an MBA and a Ph.D.; he lives and breathes self-discipline. Through his experience, and his knowledge as a research psychologist, he will teach you how you can achieve self-discipline. As a father, he shows you how to teach it to your children as well.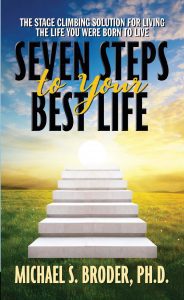 Seven Steps to Your Best Life
The Stage Climbing Solution for Living 
the Life Your Were Born to Live
Michael S. Broder, PH.D.
ISBN 978-1-7225-1013-8
EPUB ISBN 978-1-7225-2121-9
$19.95
LIVE THE LIFE YOU WERE BORN TO LIVE!
Within you is a zone of genius that contains everything you need to live the life you were born to live!
Would you like to be living your best life and operate at your highest potential in one or more pivotal areas of your life? Do you consider yourself a High Achiever, or would you like to become one?
Seven Steps to Your Best Life gives you the roadmap, tools and strategies to be operating at your absolute best. It is your step by step, paint by the numbers guide for getting the results you want in the shortest time possible.
"Broder eloquently shares his powerful Stage Climbing strategies to reach the highest potential in every area of your life. An easy and simple guide to fulfillment." —DR. DEEPAK CHOPRA, NEW YORK TIMES BESTSELLING AUTHOR
"This book will inspire you to your highest stage!! Happy Reading!" –MARK VICTOR HANSEN, CO-CREATOR OF THE CHICKEN SOUP FOR THE SOUL SERIES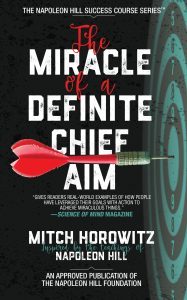 The Miracle of a Definite Chief Aim
Mitch Horowitz
ISBN 978-1-7225-1005-3
Publish date: 9/15/18
$19.95
What do you want most out of life? If you can answer that question with complete integrity and clarity, you are at the starting point of greatness. In his classic guides Think and Grow Rich and The Law of Success, motivational pioneer Napoleon Hill taught that finding your Definite Chief Aim is the most decisive and important step you can take in life. In this compelling and eminently practical "master class," acclaimed historian and New Thought author Mitch Horowitz takes you for a deep dive inside Napoleon Hill's most urgent principle. Through concrete techniques and examples, Mitch shows you how to identify your true aim, refine and act on it, and overcome setbacks. MITCH HOROWITZ is a PEN Award-winning historian and the author of Occult America and One Simple Idea: How Positive Thinking Reshaped Modern Life. Mitch has written on everything from the war on witches to the secret life of Ronald Reagan for The New York Times, The Wall Street Journal, Salon, and Time.com.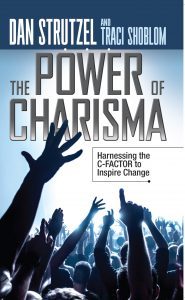 The Power of Charisma
Harnessing The C-Factor to Inspire Change
Dan Strutzel and Traci Shoblom
ISBN 978-1-7225-1008-4
EPUB ISBN 978-1-7225-2008-3
Publish date: 9/15/18
$17.95
Most everyone has something they are passionate about. But without the 
ability to actually effect change… things just stay the same. To truly inspire 
change, we need to be able to explain the problem, inspire others to join us, 
create a vision for the new reality, and then motivate people to take the 
actions that lead to the change. This requires charisma―the ability to 
communicate a clear, visionary, and inspirational message that captivates and 
motivates an audience. Imagine having that kind of aura… where all you had 
to do was walk into a room and heads would turn and people would want to 
hear what you have to say. 
In this idea-packed book, you'll learn that charisma is a social skill, like 
listening, that can be learned. Charisma can benefit every area of your life. 
Whether you're the head of a country, the leader of your Scout troop, or a 
freelance artist all alone in your studio, charisma can help you get what you 
want.
Inch by Inch it's A Cinch 
How to Accomplish Anything-
One Small Step At a Time
Dr. Gary S. Goodman
ISBN 978-1-7225-0010-8
EPUB ISBN978-1-7225-2190-5
Publish date: 9/18
$19.95
In Inch By Inch It's A Cinch, Gary S. Goodman breaks down the process of 
achieving anything, into manageable strides, whether it is cultivating a new
relationship, building a business, or earning a Ph.D. from a prestigious 
university. Filled with real-life success stories, his own and others, you'll be 
able to relate to his down-to-earth explanations, fun sense of humor, and 
instantly usable tips.
Now, with his crystal-clear advice you'll be able to break through to 
unprecedented success in every area of your life. Procrastinating? Stuck at a 
level of success that just isn't good enough? Seeking that elusive raise in pay? 
Looking for love?
Gary shows you how to make genuine progress in the most critical areas and 
achieve the results you want, one easy step at a time.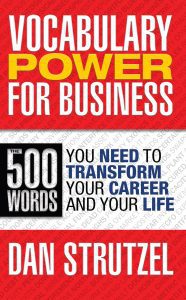 Vocabulary Power for Business
The 500 Words you Need to Transform 
Your 
Career and Your Life
Dan Strutzel 
ISBN 978-1-7225-0011-5
EPUB ISBN 978-1-7225-2115-8
Publish date: 8/18
$19.95
The author of the best-selling 30 Days to a More Powerful Vocabulary, Dan Strutzel, now focuses on communicating successfully in the business world! He presents 500 words and short expressions from different categories. Each section introduces approximately 25 words. Dan discusses each word or phrase and its definition, then, reinforces the word and its meaning with another example in a sentence. There are sections on banking and finance, marketing, and negotiation. Other sections focus on sales, entrepreneurship, human resources, e-business, and leadership. As the world changes, language changes with it. This entertaining, informative and inspiring book will help you keep pace with those changes and your career will benefit  as a result!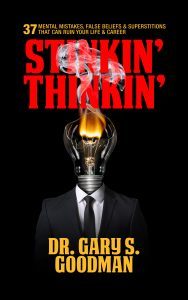 Stinkin' Thinkin'
37 Mental Mistakes, False Beliefs and Superstitions 
That Can Ruin Your Life and Career
Dr. Gary S. Goodman
ISBN 978-1-7225-0013-9
EPUB ISBN 978-1-7225-2083-0
$17.95
The US space program faced a problem. Astronauts didn't have a pen that could write inside a zero-gravity capsule. NASA invested upward of $1 million to devise a pen that could. Their rivals faced the same problem, but they solved it for less than a dollar. They decided to use a pencil.
This story is emblematic of two styles of critical thinking and problem solving. America defined its quandary as a pen problem. "Fix the pen" became the marching order. Others defined the issue as a writing challenge, so alternatives were more likely to be considered and adopted.
Most people lose friends, happiness, and career opportunities because they employ inadequate thinking skills and allow biases, false beliefs, and superstitions to govern their behavior. Even highly skilled professionals, such as physicians and attorneys, are not immune from bad thinking and runaway emotions. They can cost their clients fortunes and even their lives through poor advice and misdiagnoses.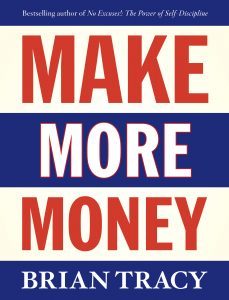 Make More Money
Brian Tracy
ISBN 978-1-7225-0019-1
EPUB ISBN 978-1-7225-2100-4
$19.95
From the best-selling expert on personal and professional success, Make More Money reveals Brian Tracy's deep understanding of the self-made millionaires of our world and how to become one. In this book, he shares his knowhow so you too can learn how to achieve more than you ever dreamed possible. Make More Money uses examples and provides hints and habits for readers who want to succeed.
LEARN:
Who becomes wealthy? 

Habits of millionaires and billionaires 

How to develop new habits 

How rich people think 

The seven basics of business success 

The seven habits of high profit businesses 

The seven habits for personal success
Stiff Them!
Your Guide to Paying Zero Dollars to the IRS, Student Loans, Credit Cards, Medical Bills, and More 
Dr. Gary S. Goodman
ISBN 978-1-7225-0036-8 
EPUB ISBN 978-1-7225-2169-1
$17.95
Stiff Them!  is a practical guide to paying ZERO dollars on your student loans, credit cards, medical debts and other financial obligations. Read it before you make another minimum payment or communicate with any debt collectors.
It is your cure for "wrongful spending" and for "wrongful lending!"                                                                                                             
Are you, or someone you love, burdened by debts that seem impossible to pay off? Do you struggle to make minimum payments on credit cards? Did you borrow a small fortune to pay for college? Is your FICO score underwater, making credit too expensive or impossible to get? Is the IRS hounding you for back taxes that are now bloated with interest and penalties? Are you paying off mountains of medical debt because your insurance was inadequate or nonexistent? Does it seem you'll never get a mortgage? Are you tired of forking over all of your income for purchases that have lost their sheen and for services that were overpriced to begin with? Are bill collectors badgering you, day after day?  Then this book is for you.