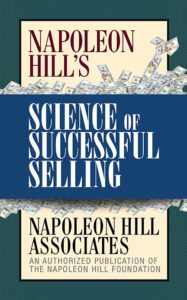 Napoleon Hill's The Science of Successful Selling
Napoleon Hill
ISBN 978-1-7225-0309-3
EPUB ISBN 978-1-7225-2422-7
Publish Date: 12/1/20
$14.95
Many followers of Napoleon Hill often miss the fact that he was not only a gifted writer and speaker, but also a man who made a living teaching other people how to sell. In 1913, Napoleon began working for the LaSalle Extension University in Chicago which gave him valuable insight into what he liked doing, and what he did well. He had a natural gift for teaching people how to sell – products, services, and above all, themselves. This authorized publication of the Napoleon Hill Foundation will give you the tools you can use to effectively sell yourself and your ideas.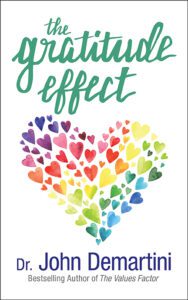 The Gratitude Effect
Dr. John Demartini
ISBN 978-1-7225-0526-4
EPUB ISBN 978-1-7225-2623-8
Publish Date: //19
$19.95
Would you like to go to the next quantum level beyond the world of simply "positive thinking?" Are you ready to experience new levels of inspiration, creativity, and achievement? Well, now you can!
Let The Gratitude Effect open your heart, inspire your mind, awaken your inner powers and hidden seeds of greatness. Allow it to help you break through any limiting beliefs and guide you to a more empowered life filled with deeper meaning and awareness.
One of the teachers of the hit movie The Secret, Dr. Demartini wrote this book as a practical guide to a new life of happiness and thankfulness, proclaiming the importance of gratitude in an individual's life.
You will learn:
• To be happy with and grateful for what you have

• How to accept much more you'll receive in return

• How to enjoy a new, happier and more gracious perspective on life

• To empower yourself and use the latentpower within
John provides you with a deeper understanding of your current attitudes and takes you into a transformation process. This volume includes exercises and affirmations that help you let the gift of gratitude into your minds and hearts. Follow his lead, and let his wisdom inspire you and remain with you for years to come!

Dr. John F. Demartini is a professional speaker, author and business consultant whose clients range from Wall Street financiers, financial planners, and corporate executives to healthcare professionals, actors and sports personalities. corporate executives to healthcare professionals, actors and sports personalities.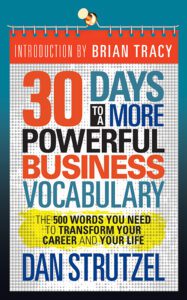 30 Days to a More Powerful Business Vocabulary
The 500 Words You Need to Transform Your Career and Your Life
Dan Strutzel
ISBN 978-1-7225-0323-9
EPUB ISBN 978-1-7225-2428-9
Publish Date: 11/10/20
$19.95 
A Bigger Vocabulary = A Brighter Future Studies show that those people with large vocabularies are smarter, wealthier, and happier than the average person – and substantially so. Personal development expert and English enthusiast Dan Strutzel will instruct, enlighten, and inspire you with a concentrated 30-day program that will teach you over 500 words. This book is important to anyone who has or wants a successful career.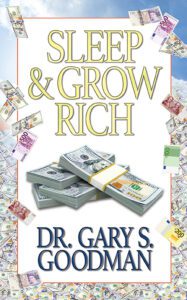 Sleep and Grow Rich 
Dr. Gary S. Goodman
ISBN 978-1-7225-0325-3
EPUB ISBN 978-1-7225-2430-2
Publish Date: 10/13/20
$17.95
Want to be rich? "Then get your sleep!" urges best-selling author, success coach, and Fortune 100 consultant, Dr. Gary S. Goodman. Goodman shows it's no coincidence that the two richest people on earth endorse the same, "bed-rock" success secret, as have most of the geniuses we celebrate, including Einstein and Edison. Amazon's Jeff Bezos and Microsoft's Bill Gates are both clear-eyed about the need for more shut-eye. And they make sure they are getting enough to sustain and grow their incomes. Yet today, in most workplaces, there is a dumb belief system and silent conspiracy to keep you poor, cranky, and sleep deprived. These miseries go together, according to the best-selling author of Sleep & Grow Rich! In this essential book you'll learn that missing sleep is the culprit behind most occupational burnouts and industrial accidents. More car crashes are attributable to drowsy drivers than drunk drivers. Instead of making you more efficient and productive, robbing yourself of sleep is doing the opposite. Being fully rested and refreshed will make you feel rich, now, and will lead to making the best decisions, while providing you the energy and patience to build wealth and well-being. Put this great book on your night table. You'll wake up feeling like a million bucks, and be well on your way to earning them! Dr. Goodman is the bestselling author of 15 books and 10 audio programs. He teaches Best Practices in Negotiation at UC Berkeley and UCLA, the #1- and #2-rated public universities in the world.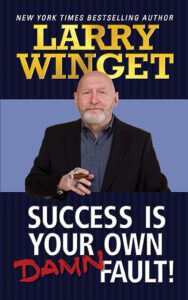 Success is Your Own Damn Fault
Larry Winget
ISBN 978-1-7225-0229-4
EPUB ISBN 978-1-7225-2323-7
Publish Date: 10/13/20
$16.19
Your success isn't up to anyone else, only you. When you learn to stop blaming and start taking responsibility everything will change. In this book, Larry will show you how to do that and tell you exactly what to do in order to move your life and business to the next level. You will learn: • Success is SIMPLE • How to get better RESULTS • How to give and receive RESPECT • How to become INVALUABLE • How to SERVE better and SELL more Larry Winget is a bestselling author, television personality, social commentator and internationally acclaimed speaker. He is the author of six New York Times/Wall Street Journal bestsellers that have been translated into over twenty languages. He is a Hall Of Fame speaker with over thirty years of experience speaking around the world to nearly 400 or the Fortune 500 companies. He is the trademarked Pitbull of Personal Development® and is known worldwide for being direct, caustic, irreverent and in-your-face. He offers solid advice for improving your life, business, finances and family. Not often do you find someone who can bring solid information delivered in such a humorous, thought-provoking, transformational style.
The Power of Positive Selling
Open The Door, Close The Sale
Dan Strutzel and Tracy Shoblom
ISBN 978-1-7225-0314-7
EPUB ISBN 978-1-7225-2424-1
Publish Date: 9/8/20
$19.95
Good sales relationships don't just happen. They must be nurtured and developed. From ancient trade routes to modern Internet platforms sales is one of the world's oldest professions.. Throughout the ages, there have been as many ways to sell as there are customers who want to buy. But whether you're a novice or seasoned sales person, no matter what your product or service there is one truth that crosses all boundaries in selling. Selling depends on a relationship. That relationship might last only a few minutes, or extend through an entire lifetime, but in order to conduct a sales transaction, there must be a relationship. The Power of Charisma authors Dan Strutzel and Traci Shoblom will show you the way. In The Power of Positive Selling, you will: • Learn to create and maintain a true connection with your customers • Understand the sales person's, the buyer's, and the relationship perspective. • Determine how to really listen to your buyer • Identify the most effective planning methods • Discover how to handle rejection • Develop your customer avatar • Perfect what to say to price objections • Create an automated follow up system • Recognize the important things to know about your product • Recognize opportunities to grow your relationships by solving the real problem. Every profession must change in order to keep up with the times. There's an old saying that even if your company makes the best buggy whip, your sales people still won't be able to sell them because no one has horse buggies anymore. We have cars. Times change. Products change. Sales is changing too. Now, more than ever, we must learn to harness The Power of Positive Selling.
Napoleon Hill's Master Course
The Original Science of Success
Napoleon Hill
ISBN 978-1-7225-0307-9
EPUB ISBN 978-1-7225-2419-7
Publish Date: 9/8/20
$24.95
THE PHILOSOPHY FOR ACHIEVEMENT AMONG THE MOST INFLUENTIAL AND PROVEN WORKS THE WORLD HAS EVER KNOWN. Napoleon Hill's Master Course is his ultimate gift to mankind. It is the easiest, most direct path to fulfilling your greatest potential, and one of the most complete self-improvement books available today. These never before published, original copyrighted lectures given by Napoleon Hill himself for the Master Course were delivered in Chicago in the mid-1950s to individuals who were being trained to teach his philosophy to help others achieve their goals. Through this exclusive course designed to improve every facet of your lives and authorized by the Napoleon Hill Foundation, you will discover how to: • UNCOVER YOUR TRUE PURPOSE IN LIFE • ACHIEVE ANY GOAL YOU SET • DEVELOP A PLEASING PERSONALITY • STEP UP TO LEADERSHIP • ACQUIRE A POSITIVE MENTAL ATTITUDE • ATTRACT OPPORTUNITIES • DEVELOP ENTHUSIASM • LEARN THROUGH ADVERSITY • FOSTER CREATIVE VISION AND IMAGINATION • MAINTAIN SOUND HEALTH • BUDGET TIME AND MONEY NAPOLEON HILL was an American self-help author. He is best known for his book Think and Grow Rich (1937), which is among the 10 best-selling self-help books of all time. It offered his "secret" for achievement and insisted, like all his books, that fervid expectations are essential to achieving success and improving one's life. His Master Course was developed to help change the lives of people throughout the country.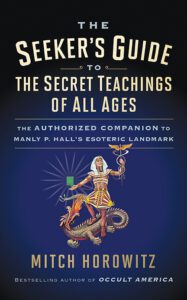 The Seeker's Guide to the Secret Teachings of All Ages
The Authorized Companion to Manly P. Hall's Esoteric Landmark

Mitch Horowitz
ISBN 978-1-7225-0318-5
EPUB ISBN 978-1-7225-2413-5
Publish Date: 9/13/20
$24.95
No writer has done more to bring the occult scholarship of Manly P. Hall (1901-1990) to a new generation than PEN Award-winning historian Mitch Horowitz. In editions produced by Mitch, Hall's esoteric landmark The Secret Teachings of All Ages has sold hundreds of thousands of copies over the last decade, reaching more readers in recent years than during Hall's lifetime. Now, Mitch provides a compelling and illuminating twelve-chapter guidebook to Hall's encyclopedia arcana. Mitch surveys, clarifies, and updates a wide range of topics in Hall's epic volume, including Pythagorean mathematics, Egyptian symbolism, the nature and origin of Tarot cards, the meaning and mystery of strange beasts, the role of Freemasonry and Rosicrucianism, and the foresight of much of Hall's esoteric scholarship. This is a guidebook to treasure alongside the Great Book. This volume is authorized by the school Hall founded, The Philosophical Research Society, where Mitch is lecturer-in-residence. "Mitch Horowitz is one of the few figures to break through into mainstream and national media as a voice of esoteric ideas."–Science of Mind magazine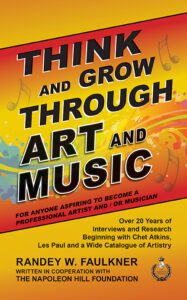 Think and Grow Through Art and Music
Randey Faulkner
ISBN 978-1-7225-0363-5
EPUB ISBN 978-1-7225-2461-6
Publish Date: 9/30/20
$19.95
Think and Grow Through Art & Music is written for anyone who aspires to be or become a professional in the field of art and music. The Author's extensive experience has demonstrated that a person who possesses the burning desire to become a professional in the field of art and music, and not only reads, yet also applied these principles, will multiply his/her greater advantage of becoming successful by ten times or more. Just as Napoleon Hill made millionaires out of scores of men and women in the past, as well as today, his principles when properly applied and followed by action, will work with any application. The author: • Includes his Twenty plus years of face-to-face interviews with some of the greatest artists and musicians who have ever lived. He also includes email and telephone conversations from those too busy to sit down for a one on one. • Adds his countless hours of research delving into the past of those who have gone before, so he might add their input and suggestions. • Integrates Napoleon Hills' lifetime of knowledge gained by over 500 interviews with some of Americas renowned leaders used to create his science of personal success and philosophy outlined in his classic Think & Grow Rich. • Teamed up with the Napoleon Hill Foundation in Wise, Virginia, who has carried on Napoleon's work since his passing in 1970. Together they have clearly written a modern day classic, a must read for any & all. Over 20 years of interviews and research, yielding inspiration, advice and motivation from musicians and artists too numerous to list, including: Chet Atkins, Les Paul, B.B. King, Stevie Wonder, Jerry Garcia, Chet Baker, Martina McBride, Thelonious Monk, Leonard Cohen, Sheryl Crow, Pharrell Williams, Andrea Bocelli, Bruno Mars, Mick Jones, Beyoncé, Willie Nelson, Eric Clapton, Eminem, Madonna, John Mellencamp, Enrico Caruso, Taylor Swift, Lyle Lovett, Diana Ross, Naomi Judd, Paul McCartney, Aretha Franklin, Carole King, Mary J. Blige, Jimmy Buffet, Chaka Khan, Quincy Jones, Yo Yo Ma, Itzhak Perlman, Ringo Starr and more. Faulkner firmly believes that the only limitations the reader has, are those he or she set up in their own minds. By following these principles and taking action, the reader will remain persistent, not give up, and have doors open that otherwise they would never be aware of.
The Ideal Realized
Practical Instructions From Neville Goddard
Mitch Horowitz
ISBN 978-1-7225-0165-5
EPUB ISBN 978-1-7225-2264-3
Publish Date: 9/8/20
$14.95
The extraordinary mystic Neville Goddard (1905-1972) is one of today's most influential metaphysical voices―and spiritual writer Mitch Horowitz is widely acknowledged as the leading interpreter of the teacher's ideas and life story. Now, in an unparalleled effort, Mitch combs through Neville's extensive body of work to distill the master's most practical and effective methods and techniques for operating the creative powers of your mind. The Ideal Realized helps you vault past difficulties in using Neville's work, particularly in the all-important area of entering the "feeling state" of your wish fulfilled. Mitch selects and highlights key passages that supply hands-on methods from Neville himself. This collection also includes key passages on dream interpretation, analysis of numbers and symbols, the use of objects for meditation, and the uses and misuses of speech. Mitch's introduction, "The Triumph of Imagination," identifies and addresses some of the challenges you might experience on the creative-mind path; supplies fresh techniques; and suggests works to read hand-in-hand with Neville. Mitch's afterword, "Chariot of Fire," which is the first-ever transcript of his earliest talk on Neville, provides the full background of the ideas and history from which Neville emerged. This anthology also features the first print version of one of Neville's final lectures, "Even the Wicked," delivered shortly before the teacher's death in 1972; the complete text of his classic Prayer: The Art of Believing from 1945; and many valuable and overlooked works, including radio, record, and television lectures. The collection is capped with a timeline of Neville's life and a selection of his most powerful aphorisms. The Ideal Realized is a wholly original volume that spans Neville's career and helps you to speed past bumps and deepen your practical understanding of the master's ideas.